(もう3日前の話ですが)今日はCYCAへ移動です!
I know it's already passed three days....We moved our boat to CYCA.
最近毎日恒例となりつつあるマスターの写真撮影タイム。
Ken, the cafe owner, has one of our crew take photos of himself to show his customers what he's doing. It's becoming a daily routine.
Facebookに写真「あげなきゃ」いけないですからね!
いつも長尾さんが頼まれてる気がする。
He has to "post" his photos on his bar's facebook page. He recentely learned the terms "post", "share", and "tag"....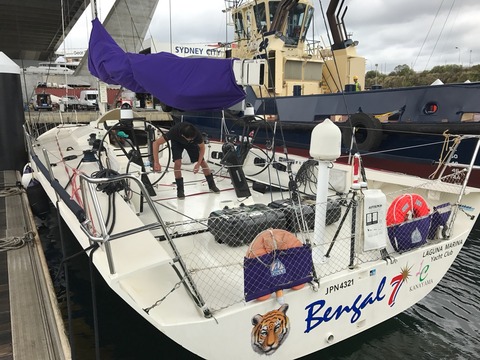 CYCAではデッキ掃除できないので、デッキとハルをきれいにしてから出航。初回2012年に来たときにNO WASHって書いてあるのを見て、「船洗えないの?!」ってどぎまぎしてたら、実はNO WASHとは波を立てるなって意味だった、という事件があったの思い出しました。
Boat cleaning done as we can't do it at the club. We remembered that we thought we couldn't wash a boat at the yard as there was a sign saying "NO WASH" in 2012 when we came here for the first time. It took a while for us to realize what "NO WASH" really means.
CYCAに到着!ファイティングフラッグあげて、本格的にレースモードに突入です。
Boat finally at CYCA! Getting serious for the race with our fighting flag.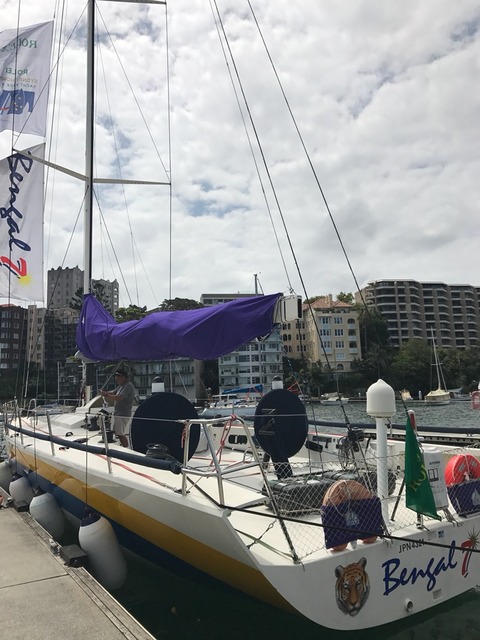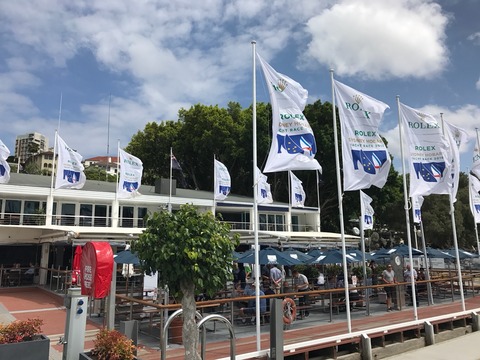 クラブ全体がレースムード。
I just love this atmosphere.....
マスターちょっとおのぼりさんみたいに見えます。
Ken actiging like a tourist.
今日は早めに上がって、GenとIanうちへ!
We finished early today and went to Gen and Ian's house.
シドニーから車で1時間弱の郊外にこだわりの詰まった素敵すぎる家でバーベキュー。
Barbecue at the beautiful house with a lot of favorites of Gen and Ian, about an hour drive from the city center.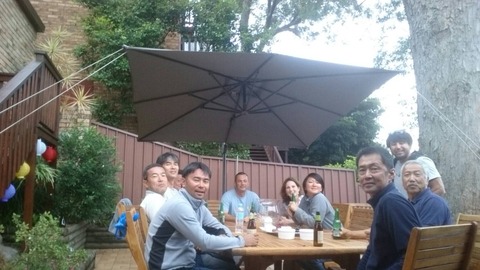 Genは2012年の初出場の時から、セーフティー関連を全てお願いしている元ボルボセーラー。Yatching AustraliaのSafety & Sea Survival Courseのために2回も蒲郡に来てくれてます。セーフティーだけじゃなくて、私たちの細々とした質問やお願いにいつも笑顔で答えてくれます。女性としても仕事人としても、私が最も尊敬する人の一人です。
Gen has been helping us on safety related stuff since 2012 when we came to the race for the first time. She was a Volvo sailor!! She's been to Japan twice to provide us with the YA Safety & Sea Survival Course and we have been good friends. She always answers, with smile, to whatever questions and requests from us even it is not related to safety, She's one of the women I really respect.
そしてIanは、私たちがGenと知り合ってから判明したのですが、2009年のトランスパックでベンガルチームと出会ってました。Jimmy BuffetというワイキキのレストランがIanが乗っていたアルファロメオとベンガルどちらもホストしてくれて、そのディナーの時に一緒に撮った写真を見て、みんな若かったねーなんて話してました。
And Ian, we learned it after we met Gen, had met us at 2009 Transpac. Both our team and Alfaromeo the team he sailed with were hosted by the same restaurant, Gimmy Buffet. A photo we took at the dinner tells us we were all young(er) back then.
Genたちの家にはバーカウンターとビリヤードプールもありまして、
Bar counter and a pool at their house.....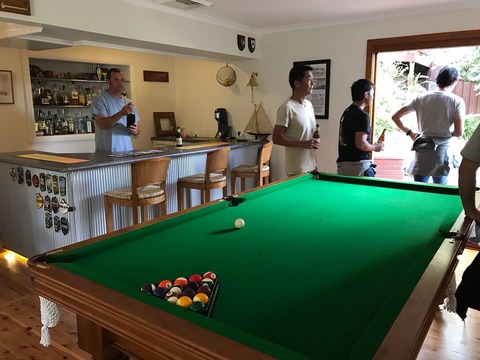 ハスラーごっこ。Of course we played "The Hustler" (To be honest I haven't wathed the movie)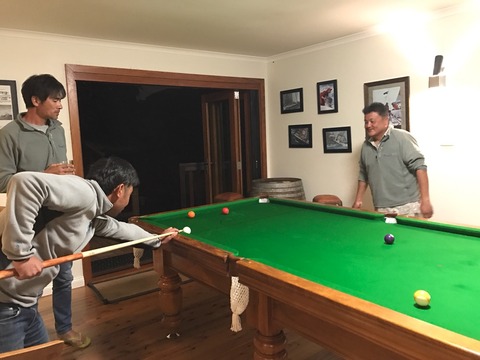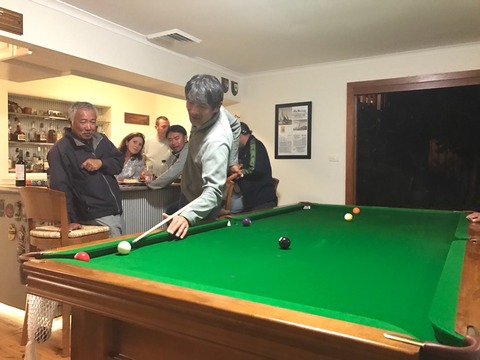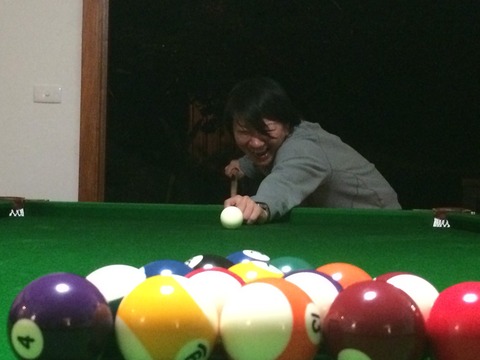 楽しくて夜遅くまで滞在しちゃいました。
トランスパックもシドニーホバートも、海外のレースに出て嬉しいことの1つは、こうやって現地の人にすごくよくしてもらって、友情がずっと続くこと。
That was a great fun! One of the fabilous things when we sail races overseas like Transpac and Sydney Hovart is that local people nicely take care of us and we make long last friendship.
Mayuko